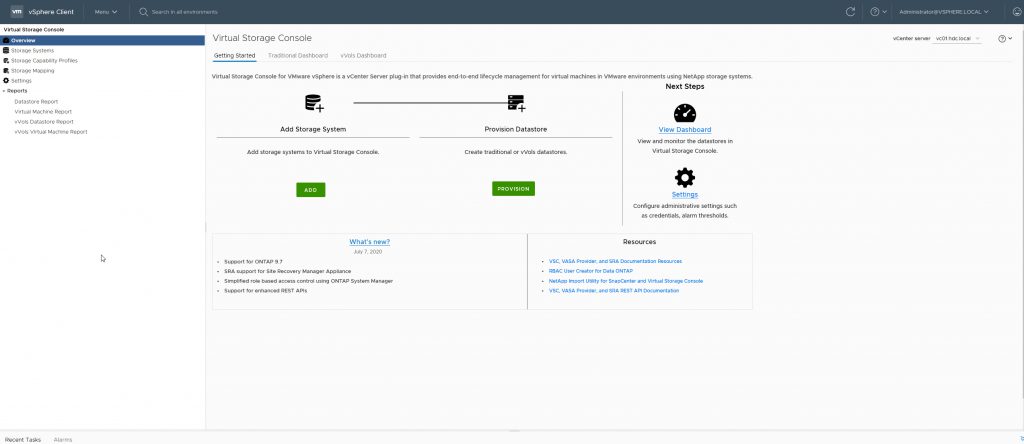 After a recent FlexPod deployment, I was inquired about the importance of deploying NetApp Virtual Storage Console (VSC) product suite in their environment, and if I could demonstrate some of the benefits. As I was going over the deployment and features of NetApp VSC, I decided to document the process.
I started documenting the deployment of my "HomeLab".
In the next few Blog Posts, I will be discussing what NetApp VSC is, demonstrate how to deploy, and how to configure.
NetApp Virtual Appliance for VSC, VASA Provider, and SRA
NetApp has an available virtual appliance download that includes VSC, VASA Provider, and SRA that easily integrates with the VMware. Since you can deploy this product suite as a virtual appliance, this reduces your effort of installing and registering each product separately.
In an environment with multiple vCenter Server instances, each vCenter Server instance that you want to manage must have its own registered instance of VSC. 
Your NetApp VSC instances should have static IP addresses and resolve with FQDN
Supported plug-ins for VSC
Virtual Storage Console for VMware vSphere (VSC) supports optional plug-ins to enhance the capabilities such as the NFS Plug-in for VAAI and VASA Provider for ONTAP.
You can also enable the Storage Replication Adapter (SRA) extension to configure disaster recovery for your vCenter Server instance.
VASA Provider
VASA Provider for ONTAP uses VMware vSphere APIs for Storage Awareness (VASA) to send information about storage used by VMware vSphere to the vCenter Server. In the 9.7 release of the virtual appliance for VSC, VASA Provider, and SRA, VASA Provider is integrated with VSC.
Virtual Storage Console (VSC)
VSC enables you to perform the following tasks within vCenter:
Add storage controllers, assign credentials, and set up permissions for storage controllers to VSC that both SRA and VASA Provider can leverage
Provision Virtual Volumes and Datastores
Monitor the performance of the datastores and virtual machines in your vCenter Server environment
View and update the host settings of the ESXi hosts that are connected to NetApp storage
Set up and manage a disaster recovery environment by using VMware Storage Replication Adapter (SRA).
NFS plug-in for VAAI
The NetApp Plug-in for VMware vStorage APIs for Array Integration (VAAI), is a software library that integrates the VMware Virtual Disk Libraries that are installed on the ESXi host.
The VMware VAAI package enables the offloading of certain tasks from the physical hosts to the storage array.
The NetApp NFS Plug-in for VAAI is not shipped with VSC and must be installed on each ESXi host separately.
Storage Replication Adapter (SRA)
When SRA is enabled and used in conjunction with VMware Site Recovery Manager (SRM), you can recover the vCenter Server datastores and virtual machines in the event of a failure. SRA enables you to configure protected sites and recovery sites in your environment for disaster recovery in the event of a failure.
I will cover the deployment of SRM in another blog post shorty.