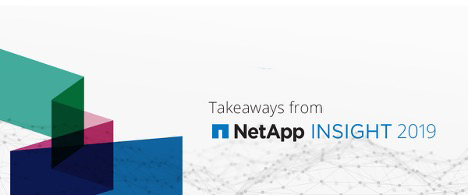 NetApp Insight 2019: What's Next for Data Fabric?
All eyes were on NetApp in Las Vegas with its annual Insight conference, providing the perfect opportunity for customers, partners and employees to have an vision into upcoming new products and engage in personal deeper conversations regarding technologies.
If you have been to NetApp Insight in the past, you will know that NetApp has been focused on Data Fabric and helping customers with their journey. This year was no exception with NetApp expanding on its Data Fabric software, and we heard several customer stories during the opening keynote. 
Data Fabric for a World Revolving Around Data
At the center of the company's vision of transforming IT is the exclusive NetApp offering Data Fabric. Leading in tech architecture for the hybrid cloud, Data Fabric is a multifaceted service that enables businesses to leverage consistent capabilities either on a physical data center or on the cloud to simplify data management.
NetApp announced that it had made enhancements to its Data Fabric software for organizations to have more control over their data.
Eventually leading to increased efficiency and improved IT responsiveness in developing applications across cloud and on-premises. "To help customers solve the challenges of operating in a hybrid multi-cloud world, we created the Data Fabric and have innovated technologically across a wide range of use cases," NetApp CEO George Kurian said. On top of this, aligning to their message around simplicity, NetApp unveiled Keystone. 
Introducing Keystone and Ansible
This year NetApp trimmed down on the number of sessions offered but still had plenty of amazing content, which included something new called Mega Sessions and your typical breakout sessions. The all-new Mega Sessions were intended to be interactive and NetApp did not disappoint.
The breakout sessions included a breadth of NetApp products and technical topics and those that caught my attention were, ONTAP Select Business use cases, ONTAP Cloud, storage deployment and management with the use of Ansible with automation, and most especially, the Keystone announcement.
Keystone is a consumption-oriented hybrid, multi-cloud model that delivers flexible pricing programs with the intent of streamlining the purchasing process. NetApp acknowledges that buying IT hardware can be challenging, which is why Keystone provides a seamless and easy-to-understand procurement process to on-premises and cloud-based services. Through these new offerings, businesses can take advantage of NetApp Data Fabric and Keystone to fully manage and secure data stores in on-premises data centers, public or private clouds, or multi-cloud environments.
The NetApp Insight Experience
Aside from the exciting changes in the Data Fabric and release of Keystone, NetApp celebrated "Women in Technology" where they highlighted how women play a key role with their contributions and the importance on our technology.
Announcements were also made throughout the vendor's portfolio, such as offering a cloud-native platform for Kubernetes container management.
NetApp A-Team: Honing The Elites 
One of the great opportunities you have while attending NetApp Insight is taking exams and becoming certified. Having spent a lot of effort and time in helping write many exams, this area is near and dear to me and I like talking with people afterward. NetApp Insight is a great place to take exams as its offered at no cost and you can take as many as you want, with time allotted of course…
Saving the best for last, I was nominated to be an A-Team member of NetApp. This is definitely a highlight in my career and I look forward to continuing my growth with my new teammates.
About NetApp A-Team